CASE STUDY
THE KLUDGE FACTORY PATTERNS & TEXTILES



Designer : Leighann Astra
Instructor : Bryan Satalino
Tyler School of Art, Graphic and Interactive Design Program


COMPONENTS
Brand Identity | Pattern & Textile Design | Surface Design | Packaging Design | Interior Design | Web Design & Prototyping


TL;DR

The Kludge Factory is a company that produces textiles decorated with geometric, optical illusion inspired patterns.

INTRODUCTION

The Kludge Factory Patterns and Textiles started off as a simple pattern design project. In one of the courses I was taking I was learning about generating design assets to be sold online on marketplaces like zazzle or redbubble. I decided to design sets of patterns on a weekly basis to be sold as bolts of fabric on the website spoonflower.com. I'd recently taught myself how to sew and was interested in designing my own custom fabrics. After designing thirty patterns, I wanted to expand upon the project by building a brand around them. So, I came up with a concept for the brand: a company I called "The Kludge Factory" that would be manufacturing and selling textiles with my patterns printed on them.

INSPIRATION
The patterns were strongly influenced by op-art; during this project I was looking at work made by artists like Bridget Riley, Richard Anuszkiewicz, and Victor Vasarely. I also drew inspiration from graphic designers like Armin Hofmann, László Moholy-Nagy, and El Lissitzky; particularly their deconstruction and fragmentation of geometric shapes and their blending of photography with strong graphic elements.


PROCESS
The word kludge means "an ill-assorted collection of parts assembled to fulfill a particular purpose".
I thought that "The Kludge Factory" was a good choice for the company name because within the patterns there is a disjunction between hard geometric shape and photography but both of these contrasting elements come together to form a unified whole.
I came up with ideas for the visuals in the patterns by looking for patterns in everyday life and altering or replicating them. I also sometimes looked at public domain imagery as a starting point. I'd create strange sounding alliterative axioms based upon the photographs I was looking at, for example "segmented sunsets over circleville", and this would limit myself to only work with circular forms and photographs of sunsets. Sometimes I would just sketch patterns using a single shape over and over again until I created something interesting.

After sketching, I scan in my drawings and open them in Adobe Illustrator to trace over them with the shape/line/pen tools. I search for public domain imagery and edit the photos as needed in Photoshop by adjusting curves, levels, contrast, or inverting the image. Then, I turn the shapes into compound paths and fill them with imagery using clipping masks. Once I attain my desired effect, I use the pattern tool to generate tileable pattern swatches.


Each series of weekly patterns centers around a certain theme, the titles of each series are directly related to the public domain imagery and types of shapes used in the patterns. By using seemingly arbitrary naming conventions for each set of patterns, I challenge the viewer to discern the connection between pattern and title. For example, while designing my second series of patterns "wood grain wave craze" I wanted to focus on using wavy lines and curvilinear forms. The texture inside the patterns is from two public domain images of a tangential section of a tulip tree and a section of bark from an oak tree. This is how the titles connect to the shapes and images within each series of patterns.
WHY PATTERNS?

I like working with optical illusions because (aside from them simply looking cool) they're related to themes of reality as illusion, subjective reality, perception, the human brain's interpretation of reality, and how the mind can falsify reality by making static images appear to move, oscillate, and vibrate.







To me, the process of making patterns is deeply satisfying and has become a passion project. Above all, I think I enjoy making these particular patterns because of the limitations I've placed upon myself. For example: I can only use black and white, I can only use shapes derived from geometry, and I will always fill the pattern's positive space with public domain imagery. These restrictions provide control and lessen the amount of decisions needed to be made on my part.
Too much choice can drive a person mad; it's good to set parameters.
While making patterns, I don't really have to think about anything aside from line, shape, form, contrast, and positive and negative space. In that respect, this project has become an escape from my other graphic design work that requires me to think more deeply about topics or formulate an opinion about some sort of social or personal issue. It has become a way to preoccupy and distract myself from my internal conflicts, existential dread, and the contradictory feelings and thoughts that I've been experiencing recently.
AESTHETIC DECISIONS
A recurring visual element that I tried to incorporate into The Kludge Factory's patterns and brand is contrast.
My desire to create strong contrast was at the center of all of my design choices: my use of black versus white, hard geometry versus photography, negative versus positive space, and modern versus old-fashioned typography.
I tried to maintain consistency from pattern to pattern through my use of clipping masks and public domain imagery as a textural element. I've used found, public domain imagery to fill the black, positive spaces of my patterns. These images are mostly from old medical, botany, horticulture, and astronomy textbooks whose copyright has expired.
I think that the antithesis between hard, geometric line and photographic image is something that's worth experimenting with because it creates subtle, interesting textures and an unusual, grunge-y feeling.
While designing the logo I wanted it to have a similar look and feel to the patterns, so I decided to combine the initials of The Kludge Factory (TKF) into a form made by a single continuous line. I did this because I incorporate a lot of linear forms into my patterns so it just made sense to extend this to the logo. I used the typeface Work Sans because it provides the clean, stability that connects to the geometry within the patterns. I chose Courier because it's reminescent of strike-on typewriters and provides a little bit of edginess and rawness that connects to the texture inside of my patterns.
PACKAGING
Simple packaging for test swatches, fabrics prepared for shipment, and mailer boxes.
USAGE
I used mockup templates to see how my patterns would look in situ in different environments . Ideally, customers would be purchasing textiles by the yard and using them to sew things like handcrafted clothing and home decor.

WEB DESIGN & PROTOTYPING

Website design and Adobe XD prototype of The Kludge Factory's e-commerce online shop.

THE WALL OF PATTERNS
series 1 : straight strokes, severed seismographs, and the square


series 2 : wood grain wave craze
series 3 : dissecting circles at waitakere falls
series 4 : pulled teeth and pentagonal tessellations
series 5 : sidereal squares and stripes
series 6 : the lines in my lobe won't leave me alone
series 7 : tessell ate ion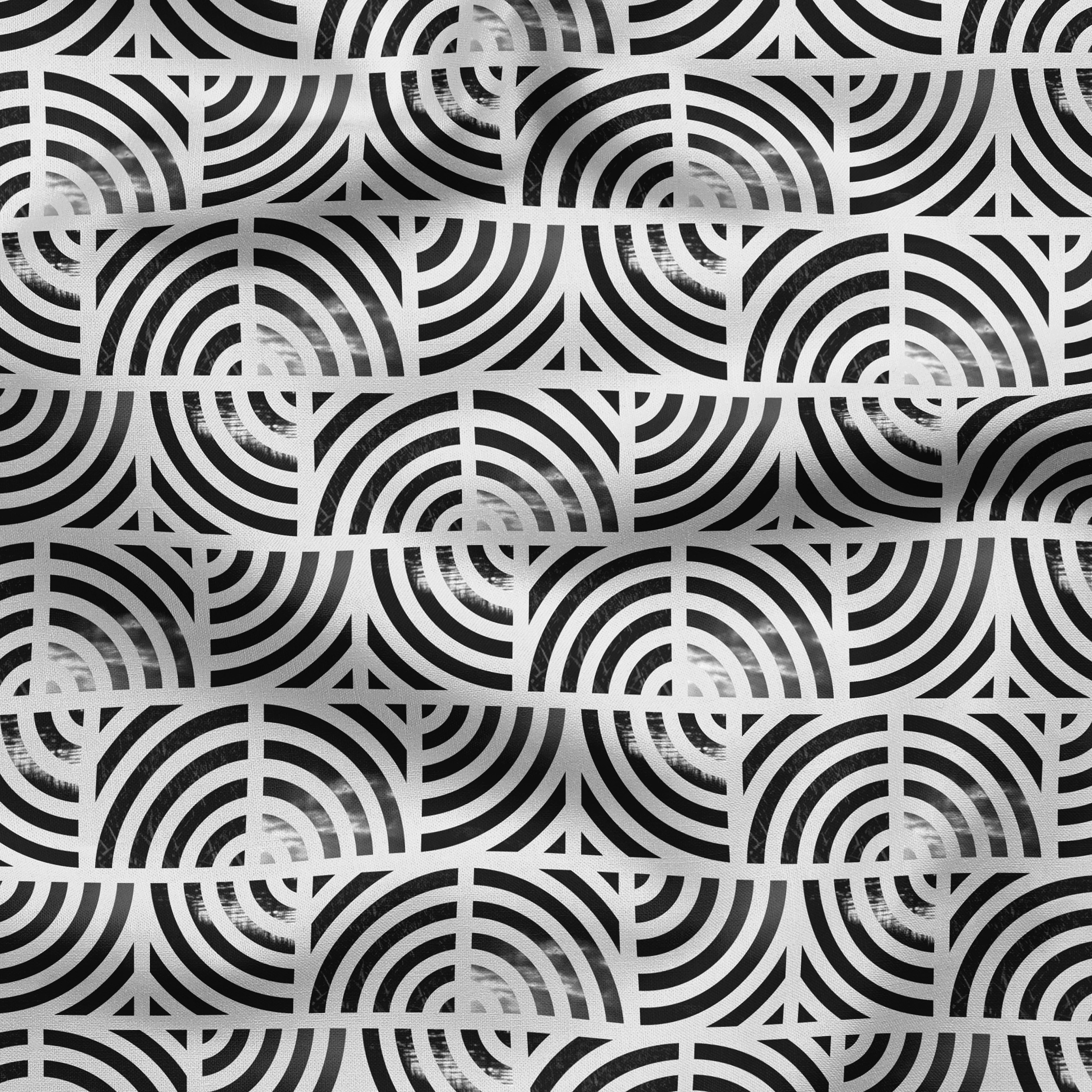 series 8 : segmented sunsets over circleville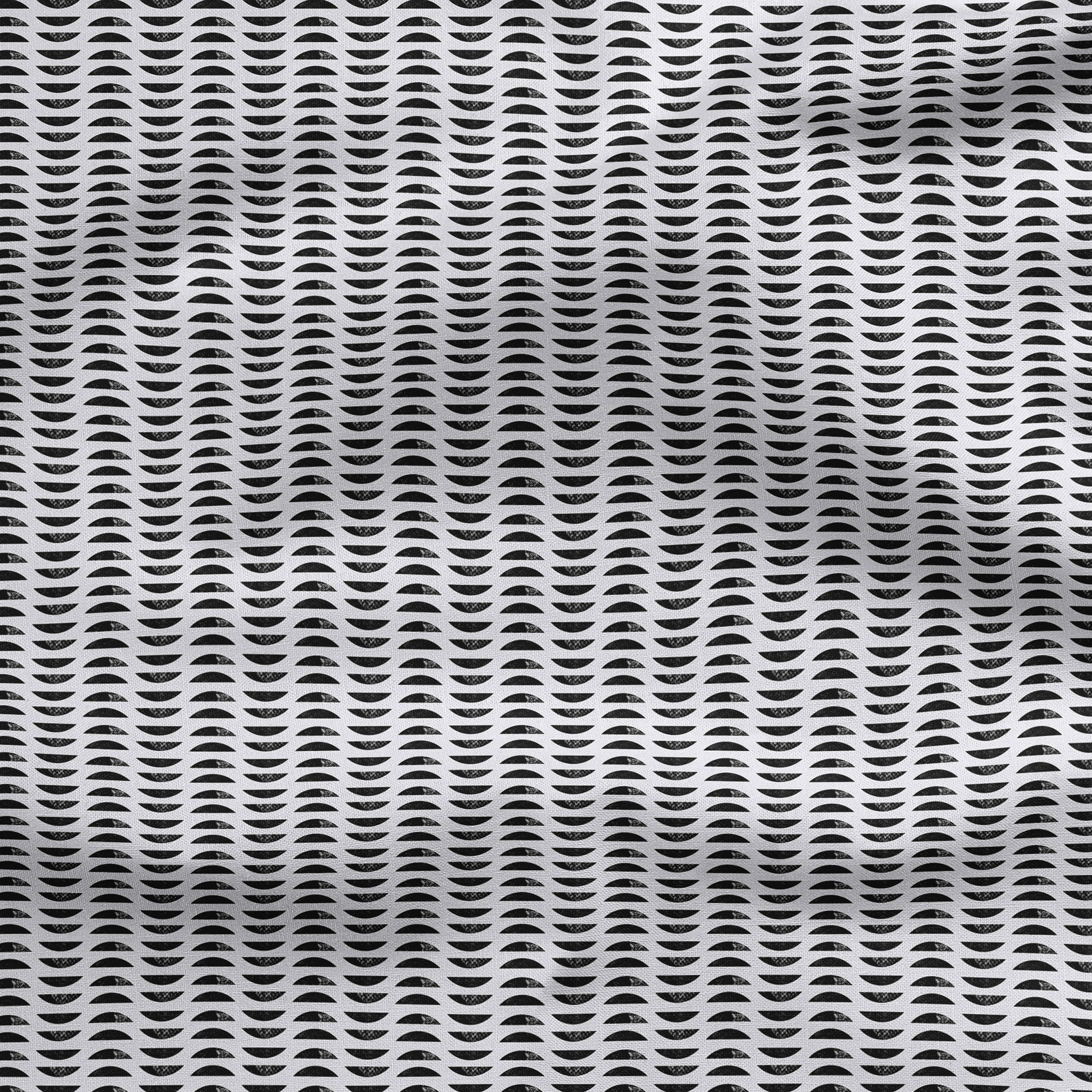 series 9 : swarming, shimmering circles
series 10 : circles swept away from squares