CASE STUDY
SCRATCH VEGAN APP



Designer : Leighann Astra
Instructor : Jason Kernevich
Tyler School of Art, Graphic and Interactive Design Program


COMPONENTS
Brand Identity | App Design & Prototyping | Web Design & Prototyping


TL;DR

Scratch vegan is a concept for a recipe search and meal planning app that helps users who are interested in transitioning to a plant-based, vegan diet.
INTRODUCTION
Factory farming, the mass production of meat and dairy, is a huge contributor toward the environmental degradation of our planet. This process of cultivating livestock causes an assortment of environmental issues such as deforestation, water pollution, and methane emissions. Adopting a vegan diet is one of the number one personal choices an individual can make to reduce their environmental impact on the Earth. However, maintaining a plant-based diet can be challenging because of the time consuming nature of planning and preparing meals.

In response to this issue, I designed an app that would help people with their transition to veganism. My concept for the app is that it would streamline searching for and selecting recipes, planning out meals on a weekly basis, and grocery shopping. The functions in the app include a recipe search, a weekly/daily meal organizer, and an automatic grocery list generator.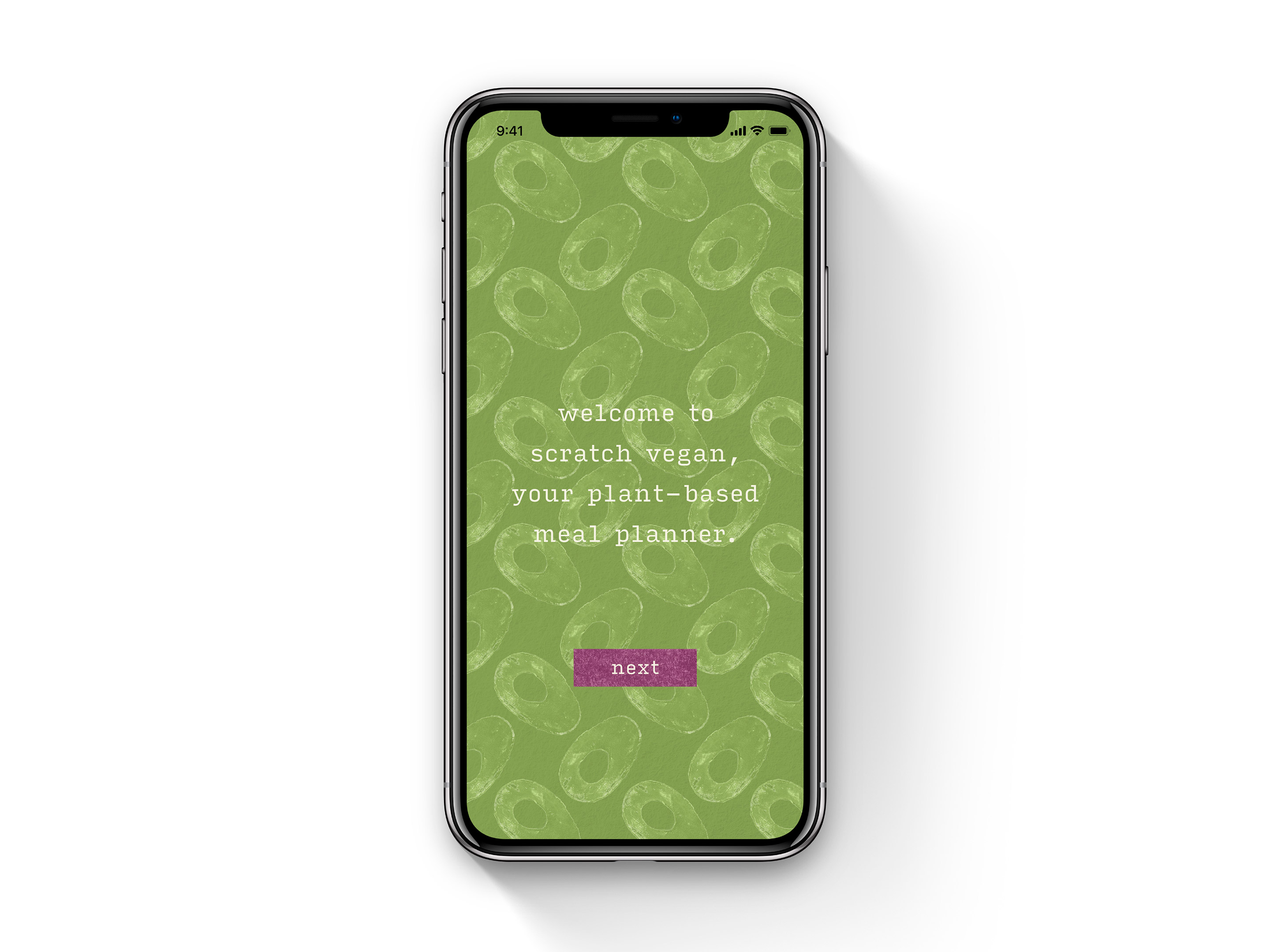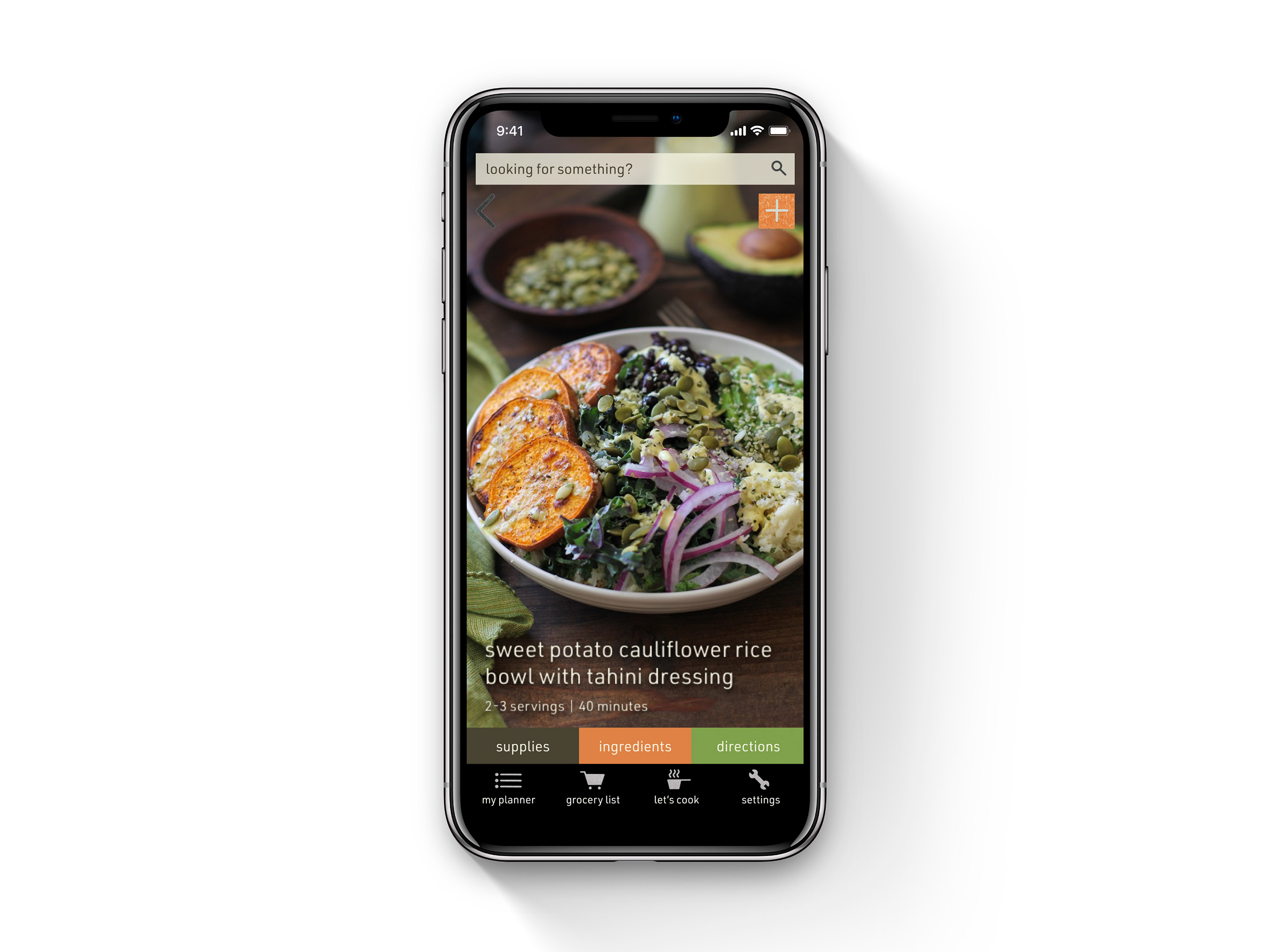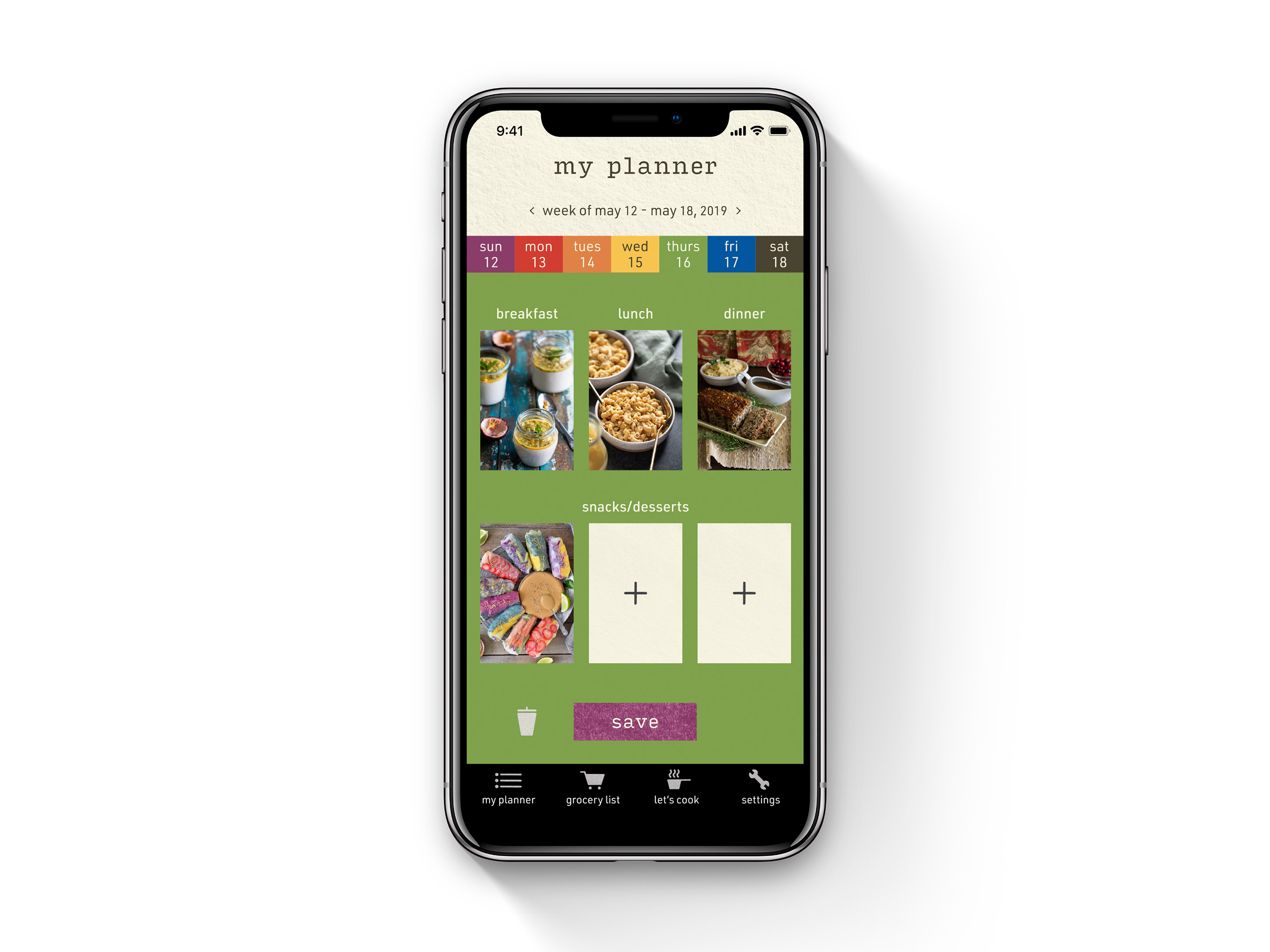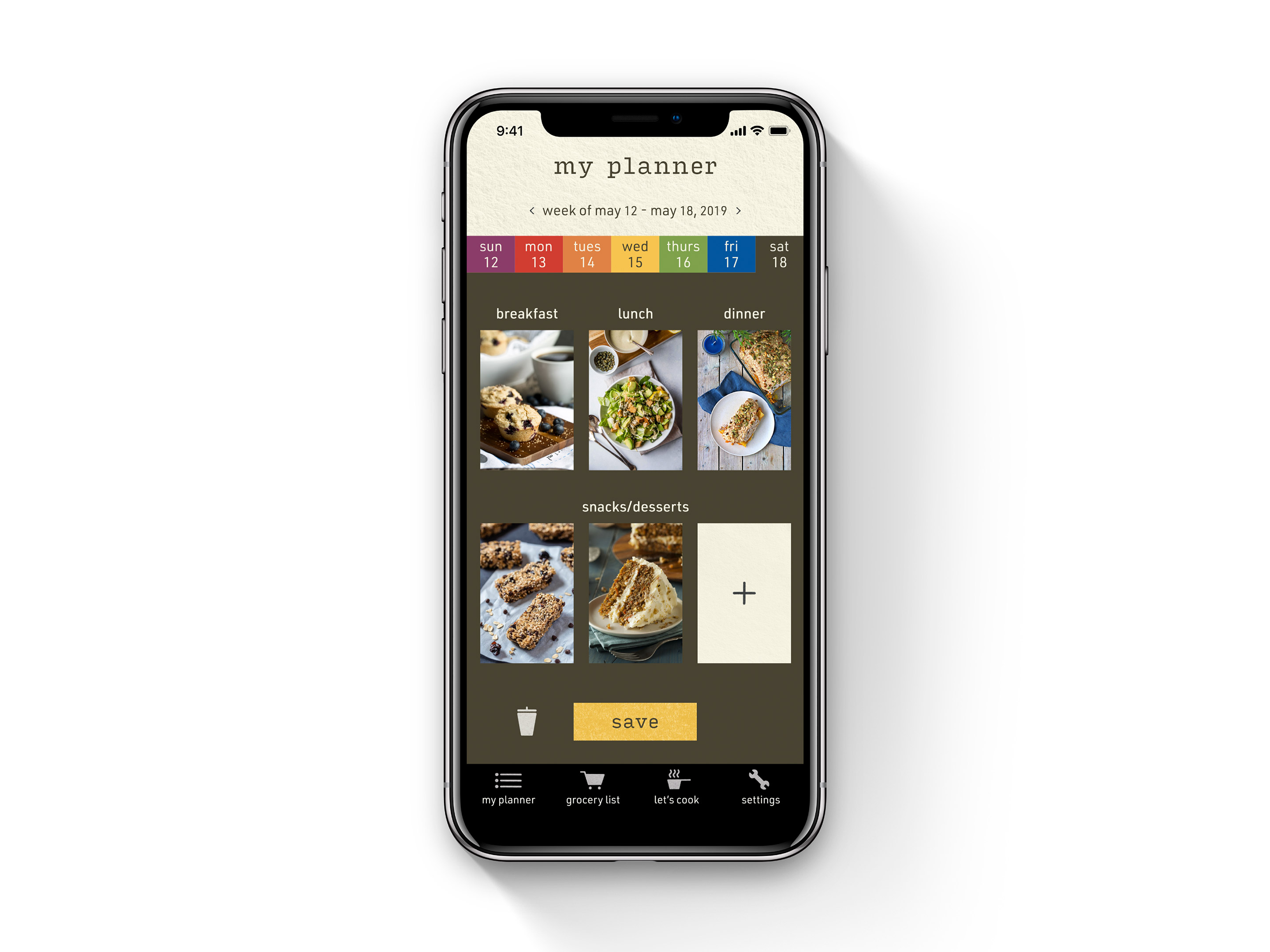 PROCESS
At the beginning, I made a mindmap of all of the words I could think of that are related to veganism, the environment, and cooking. I used combinations of these words to come up with app names.
I picked the name scratch vegan because the homemade, "from scratch" feeling is an integral part of the brand.
I wanted to create an overall mood of warmth and comfort and provide users with a very unique, intimate experience. I used a crafty, do-it-yourself aesthetic by incorporating stamps of vegetables and fruits into scratch vegan's brand. I created these by cutting various fruits and veggies in half, inking them, and then stamping them onto white paper. I then took the stamps and scanned them into the computer. I used Adobe Photoshop to adjust the colors using blending modes and color overlays and I used masks to make the white areas of the stamps transparent.

As an extension of the stamped assets, I began designing patterns that could be used throughout the app, website, and brand collateral.
I also used blender markers and made image transfers of some of the iconography, typography, and buttons to give them the same sort of printed look.
The stamped elements add a very tactile, human touch into the app's design.
AESTHETIC DECISIONS

I chose the muted earthy color scheme because I think it connects to the natural colors of fruits and vegetables. If used in the right context, I think that slab serif typefaces can create a very quaint or rustic feeling. I used the typeface Input Serif throughout the brand because I think that this typeface is modern (it was made for computer programming and coding), while on the other hand, it also looks old-fashioned and bold because of the slabs. The other typeface I use throughout the brand is URW DIN and I chose it because of its modernity and quirkiness and because it's a tall and lean typeface which contrasts nicely against Input Serif which is somewhat short and wide.

IMAGE CURATION
I wanted to curate food photography that would emulate the homemade, natural feeling of the scratch vegan brand. I sought images of food 'in the making' or with ingredients scattered around the environment.
I wanted to show the the authentic process, imperfection, and human involvement in preparing food.
USER JOURNEY
Before I began designing the app I created a flowchart of the user journey to help me plot out and organize the features and progression through different screens.


WIREFRAMES
While designing the screens I started off with very basic, rough sketches. I fleshed them out into low fidelity wireframes and then high-fidelity prototypes in Adobe XD.
FEATURES : PERSONALIZATION
WEB DESIGN AND PROTOTYPING
Website design and Adobe XD prototype of scratch vegan's informational website and e-commerce online shop.

BRAND COLLATERAL
Brand collateral mockups for an oven mitt, pot holder, and reusable grocery bag decorated with the stamped patterns.